Written By
| | |
| --- | --- |
| | Associate Professor of Law, University of Minnesota Law School |
| | Associate Professor of Clinical Instruction, University of Minnesota Law School |
From the Casebook
Full Faculty Resources
Prentiss Cox and Laura Thomas'
Law in Practice, 2d
Learn More in Our Author Video Below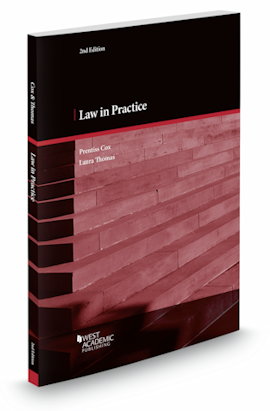 The Law in Practice casebook is the primary text for a turnkey course integrating legal doctrine and lawyering skills that has proven to be successful for first and second-year law students. The course material includes multiple options for litigation and transactional simulations, including client and witness interviews, depositions, client counseling sessions, chambers conference, mediation and attorney only negotiating sessions. The casebook is accompanied by four professionally produced videos and extensive case file materials allowing for integration of legal analysis and skills training in one course. The text covers negotiating theories and concepts necessary to effectively conduct interviews and client counseling. The simulation material allows for weekly or periodic downloads of simulation documents that allow students to see the facts shift as the case unfold over time, as occurs in actual practice. Detailed faculty materials provide weekly class plans that track the simulation material and include engaging teaching exercises and multiple choice questions appropriate for "clicker" systems.

Units I and II of the course are based on a litigation case file. Students receive time-released information on a condensed schedule designed to mimic the patterns of case development in legal practice. The focus of Unit I is fact gathering. Students receive weekly updates that introduce fact development and analysis of claims as the case moves from informal investigation to discovery, including documents from written discovery production. Simulation materials allow for a client interview, witness interview and fact witness deposition. Unit II presents dispute resolution. The classroom materials introduce case valuation, distributive negotiation theory, and setting initial settlement offer amounts. Materials are provided for a simulated chambers conference and a mediation.

Unit III of the course is based on a transactional case file. Students are introduced to the differences between litigation and transactional work. The classroom materials focus on the use of integrative negotiating to create value and client counseling. Simulation materials include interviewing and counseling a client looking to complete a deal with another party, and negotiating with the opposing counsel.

Attorneys offer unique value to their clients by translating client needs and experience into a matter of rights or obligations under the law. Law in Practice materials are designed to immerse students in the experience of applying legal knowledge and reasoning to solve client problems and help achieve client goals-the essence of legal practice.